Helping Guitarists & Communities
We are a group of guitar and music lovers driven by a passion to help guitarists on their playing journey. We want to assist guitarists in discovering the unique qualities of these compact-size beauties.
Beyond serving the guitar community, we positively impact communities in need.
How Our Site Makes a Profit
Our advertising partnerships seek to align with our reader's interests. These partnerships provide exposure to valuable products for our readers as well as funding for our clean water projects.
Another way parlor.guitars get an income is through affiliate sales. We recommend products and services that we genuinely believe in. If any sales come through our referral links, we earn a commission. It's important to note that this commission comes at no extra cost to you.
What We Do With the Profit
Transparency and social responsibility are of utmost importance to us. We invest in clean water projects with each contribution from our site's profits. 1 in 4 people in the world still need drinking water in their homes. We want to bring clean water to communities in need.
We aim to create a positive impact for entire villages who lack this essential resource.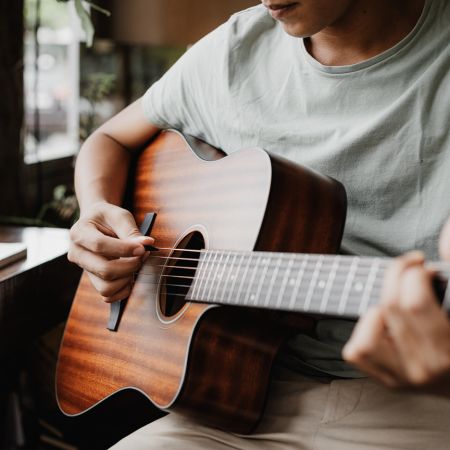 As passionate musicians, we understand the importance of reliable and comprehensive information. From beginners to experienced players, we are your ultimate resource in parlor guitar.
To Help Others by funding Clean Water Projects
Making a difference is at the core of our mission. By generating revenue, we can fund clean water projects. 100% of site advertising and affiliate sales commissions pay for projects.
The journey of parlor.guitars began in 2015. Jason Horton and Daniel Barnett, both music enthusiasts, co-founded the site.
Jason's diverse experience has seen him as a singer/artist, an artist manager, and an event manager. He has also produced music and has been a publisher and talent scout. Daniel, a guitarist and songwriter, provided a solid foundation for the site.
Today, parlor.guitars is expertly managed and written by Alexander Briones – our in-house musician passionate about sharing knowledge. Alexander's experience extends to teaching guitar, live performance, and PA system specialist. He ensures that the information we provide is both reliable and valuable.
Parlor.guitars is part of the Gearank Group: – an English and European informational websites group dedicated to music gear and techniques. These expand our reach and bring even more valuable insights to our readers.
Our passion is to inspire musicians with our love for parlor guitars. Through the profits of this site, we make positive impacts on communities. Parlor.guitars is a trusted resource for guitarists seeking detailed information about parlor guitars. Join us as a force for good in the world by supporting us and clean water projects.
Parlor Guitars is a participant in the Amazon Services LLC Associates Program, an affiliate advertising program designed to provide a means for sites to earn advertising fees by advertising and linking to amazon.com. This website also presents advertisements delivered by Google AdSense.